Make a quilt, solve a murder!
Once you've purchased a year's membership to Murder and Mayhem Murder Mystery Quilts, you'll create a username/password.  To sign in at any time, place that username/password in the form below and you'll be logged in.
If you'd like to join us, click on the Home button in the menu above or on the Join Us link below.  Underneath the picture of a dinosaur, there is an ADD TO CART button.  Click on that button to purchase your membership.
Thank you!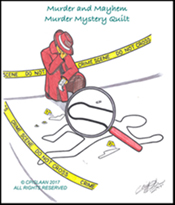 © 2017-2019 Murder and Mayhem Murder Mystery Quilts