Make a quilt, solve a murder!
You:  Join us and have fun!
Us:  We promise to give you more in entertainment, fun and new skills learned than the value of the money you give to us.  If at any time you don't believe this to be true, write to us to cancel the remainder of your subscription.  We will prorate a refund of your purchase price.  We'll take the number of unused months and divide it by the total number of months (12 in this case).  We will then multiple the amount you paid by this percentage and we'll refund you this amount.  No questions asked!
Affiliates:  If at any time, one of your people cancel his/her membership, we will also pull back a prorated amount of the commission you originally received using the formula described above.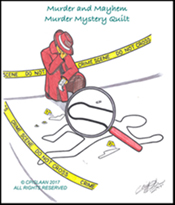 © 2017-2019 Murder and Mayhem Murder Mystery Quilts