Make a quilt, solve a murder!
Affiliate Terms and Conditions 
In order to receive an affiliate commission, you must sign up for an affilliate account using our Affiliate Signup/Login page (see menu above).  Affiliate commissions are always at least $2.50 per sale when payment has been made by your referral.  At times, affiliate commission are much higher than that.  
You must have a PayPal account in order to receive your commission since we don't mail out checks. If you don't currently have a PayPal account, click here to create an account.  

<link here>

You must use the referral website link provided to you when you signed up.  This will make sure that you get credited for your commission.
We pay commissions on the first of the month after your commission has been credited.  We don't hold any amount back for months like some affiliate programs do, so your commission will be deposited into your PayPal account on the first of the month regardless of how much you have coming be it $5.00 or $50,000.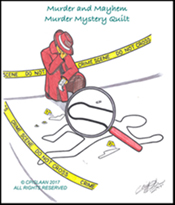 © 2017-2019 Murder and Mayhem Murder Mystery Quilts