Make a quilt, solve a murder!
Join at any time.  You'll have access to all files previously released.  We'd love to work with you to bring something unusual, unique and fun to your customers and guild members!
Are you interested in offering our Murder and Mayhem Murder Mystery Quilt to your customers or guild members as a BOM class or club? You can charge whatever you want per person.  Just tell us how many people you have signed up and we will send you a single invoice for the amount due to use our copywrited material.  You'll pay 20% of the regular cost for each person.
The fabric list for the 2020 BOM has already been posted on the website and is available once you become a Quilt Shop member.  Chapters of the murder mystery and block sewing instructions each month.  And a recipe for a dessert each month! We'll set you up as a quilt shop/quild member on the website and you'll be able to download your files the first of each month.   Show your customers a good time and have fun.
If you're interested in receiving more information, please fill in the contact form below and we'll get back to you as soon as we can.
Send me more information!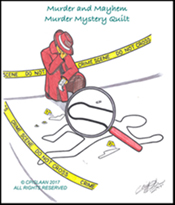 © 2017-2019 Murder and Mayhem Murder Mystery Quilts